Data centre infrastructure
Our supplier Climaveneta offers not only cooling systems but also a full range of additional products for data centres. Examples include raised floors for ideal air circulation, equipment racks, containment solutions to separate cold and hot airflows and Power Distribution Units (PDU) to distribute the flow. Our APAC Raised Floors department knows all about raised floors. If you have any questions about the other products, please contact us.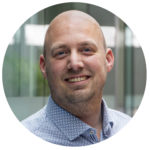 Want to know more?
---
Want more information about our products? Contact Edwin Ronde-Out.
or call +31 (0) 30 2416850